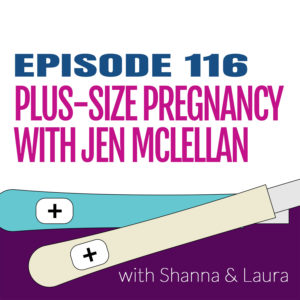 Ep. 116: Plus-Size Pregnancy with Jen McLellan
September 21, 2020
Listen Now:
Shanna and Laura talk with the founder of Plus Size Birth and host of the Plus Mommy Podcast, Jen McLellan, about the challenges plus-size people face when pregnant, her journey to becoming an advocate for plus-size pregnancy, advice on finding body-positive care providers and more!
You can find Jen and all her resources at https://plussizebirth.com Also, Laura reports on feeling baby kicks much earlier in her second pregnancy than in her first, and Shanna talks about her toddler's favorite new early 1990s songs to sing. Finally, they reveal their BFPs and BFNs for the week. Shanna's toddler is 20 months old, and Laura's toddler is 19 months old. Laura is 15 weeks pregnant.
Show Notes:
(*denotes affiliate link)
This episode's sponsors:
Big Fat Positive: A Pregnancy and Parenting Journey is sponsored by BetterHelp. Join over 1 million people taking charge of their mental health. BetterHelp connects people with licensed, professional therapists in a safe online environment. BFP listeners get 10% off their first month.
Visit BetterHelp
With SewSafe™ magnetic closures, Simply Magnetic Me makes changes practically effortless. Plus, their supremely soft fabrics are cozy and sustainable! Get 20% off your order with promo code BFP.
Visit Simply Magnetic Me
Order insurance-covered breast pumps like Madela, Spectra, and Elvie right to your door from a certified Women-Owned Business Enterprise (WBE).
Visit Yummy Mummy