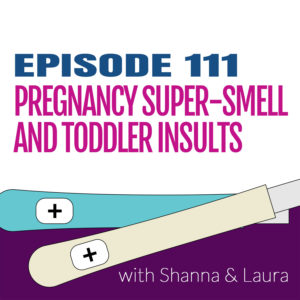 Ep. 111: Pregnancy Super-Smell and Toddler Insults
August 17, 2020
Listen Now:
Laura and Shanna report on the unusual, funny or shocking things that people have said to them recently in the special segment, "They Said What?!" Also, Shanna reports on her toddler's growing ability to express her desires and new interest in mimicking those around her, and Laura talks about her unfortunate combo of pregnancy symptoms as well as her toddler's first major tantrum (over THE MOST important thing). Finally, they reveal their BFPs and BFNs for the week. Shanna's toddler is 19 months old, and Laura's toddler is 18 months old.
Show Notes:
(*denotes affiliate link)
This episode's sponsors:
Big Fat Positive: A Pregnancy and Parenting Journey is sponsored by BetterHelp. Join over 1 million people taking charge of their mental health. BetterHelp connects people with licensed, professional therapists in a safe online environment. BFP listeners get 10% off their first month. ?
Visit BetterHelp
Get the full studio experience at home with thousands of classes for body, mind, and spirit. Get 30 days free and 50% off an annual membership with code BFP (case sensitive).
Visit Alo Moves