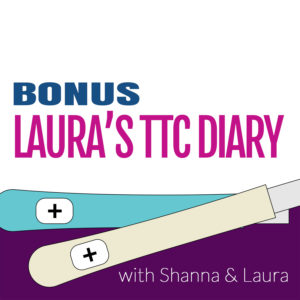 Bonus: Laura's TTC Diary
August 13, 2020
Listen Now:
Laura and Shanna check in over the course of four months on Laura's journey of trying to conceive baby number two. Laura shares from the moment she decided to take out her IUD to the moment she shared her BFP with Shanna. She discusses deciding with her husband to go for baby #2, some hiccups in the road due to the coronavirus, her tried and true ovulation tracking kit, the dreaded two week wait and more!
Show Notes:
This episode's sponsors:
Big Fat Positive: A Pregnancy and Parenting Journey is sponsored by BetterHelp. Join over 1 million people taking charge of their mental health. BetterHelp connects people with licensed, professional therapists in a safe online environment. BFP listeners get 10% off their first month.
Visit BetterHelp
With SewSafe™ magnetic closures, Simply Magnetic Me makes changes practically effortless. Plus, their supremely soft fabrics are cozy and sustainable! Get 20% off your order with promo code BFP.
Visit Simply Magnetic Me
Order insurance-covered breast pumps like Madela, Spectra, and Elvie right to your door from a certified Women-Owned Business Enterprise (WBE).
Visit Yummy Mummy